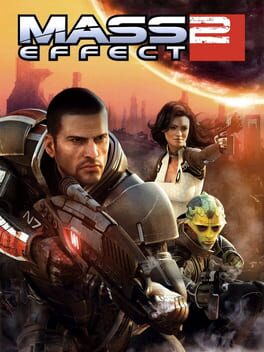 Mass Effect 2 PC CD Keys
What are Mass Effect 2 PC CD Keys?
Mass Effect 2 PC CD keys, also known as game codes and game keys, are digital downloads that can be redeemed on platforms and services where the game was officially released. For example, Mass Effect 2 codes can be redeemed and played on PC (Windows), PlayStation 3, Xbox 360.
How can I find the best Mass Effect 2 PC CD Key prices?
Prices vary by region, platform and the service and/or game launcher the CD key can be redeemed on. BestCDKeys.com takes all of these factors into consideration and makes it easy to compare prices from official retailers and popular third-party marketplaces by finding you the best daily Mass Effect 2 PC sales and discount codes available worldwide.
Mass Effect 2 PC Digital Downloads
Buy Mass Effect 2 game codes and redeem them to own a digitial copy of Mass Effect 2 PC that you can download and play. Select your preferred country, platform and service to find the best deal.
Mass Effect 2 PC
Are you prepared to lose everything to save the galaxy? You'll need to be, Commander Shephard. It's time to bring together your greatest allies and recruit the galaxy's fighting elite to continue the resistance against the invading Reapers. So steel yourself, because this is an astronomical mission where sacrifices must be made. You'll face tougher choices and new, deadlier enemies. Arm yourself and prepare for an unforgettable intergalactic adventure. Game Features: Shift the fight in your favour. Equip yourself with powerful new weapons almost instantly thanks to a new inventory system. Plus, an improved health regeneration system means you'll spend less time hunting for restorative items. Make every decision matter. Divisive crew members are just the tip of the iceberg, Commander, because you'll also be tasked with issues of intergalactic diplomacy. And time's a wastin' so don't be afraid to use new prompt-based actions that let you interrupt conversations, even if they could alter the fate of your crew...and the galaxy. Forge new alliances, carefully. You'll fight alongside some of your most trustworthy crew members, but you'll also get the opportunity to recruit new talent. Just choose your new partners with care because the fate of the galaxy rests on your shoulders, Commander.
Storyline
Two years after Commander Shepard repelled invading Reapers bent on the destruction of organic life, a mysterious new enemy has emerged. On the fringes of known space, something is silently abducting entire human colonies. Now Shepard must work with Cerberus, a ruthless organization devoted to human survival at any cost, to stop the most terrifying threat mankind has ever faced. To even attempt this perilous mission, Shepard must assemble the galaxy's most elite team and command the most powerful ship ever built. Even then, they say it would be suicide. Commander Shepard intends to prove them wrong.
Details
| | |
| --- | --- |
| Publisher | Electronic Arts |
| Developer | BioWare, BioWare Edmonton |
| Genre | Adventure, Role-playing (RPG), Simulator, Shooter |
| Game Mode | single-player |
| Theme | Action, Science fiction |
| Platform | PC (Windows), PlayStation 3, Xbox 360 |