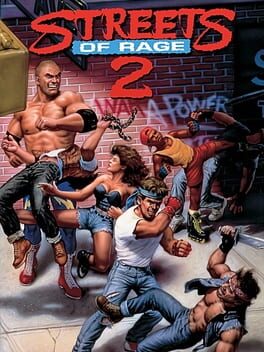 Streets of Rage 2 PC CD Keys
What are Streets of Rage 2 PC CD Keys?
Streets of Rage 2 PC CD keys, also known as game codes and game keys, are digital downloads that can be redeemed on platforms and services where the game was officially released. For example, Streets of Rage 2 codes can be redeemed and played on iOS, PC (Windows), Sega Game Gear, Sega Mega Drive/Genesis, Sega Master System, PlayStation 3, Arcade, Wii, Linux.
How can I find the best Streets of Rage 2 PC CD Key prices?
Prices vary by region, platform and the service and/or game launcher the CD key can be redeemed on. BestCDKeys.com takes all of these factors into consideration and makes it easy to compare prices from official retailers and popular third-party marketplaces by finding you the best daily Streets of Rage 2 PC sales and discount codes available worldwide.
Streets of Rage 2 PC Digital Downloads
Buy Streets of Rage 2 game codes and redeem them to own a digitial copy of Streets of Rage 2 PC that you can download and play. Select your preferred country, platform and service to find the best deal.
Streets of Rage 2 PC
Mr. X and the Syndicate are back, this time taking Adam hostage! Take on the role of Axel, Blaze, Skate, or Max to rescue Adam, and destroy Mr. X once and for all.
Storyline
One year has passed since Adam Hunter, Axel Stone, and Blaze Fielding successfully defeated Mr. X and broke the Syndicate Crime Organization's hold on the city. Peace has returned to the streets, the once-vacant neighborhoods are being repopulated, and prosperity has returned to the city. Adam has returned to the police force, while Axel and Blaze have moved out of the city and found jobs as a bodyguard and a dance instructor, respectively. On the anniversary of their victory over the syndicate, Adam, Axel, and Blaze reunite to celebrate and talk about old times. The next day, however, Axel receives a frantic call from Adam's younger brother, Eddie "Skate" Hunter, who returned home from school to find their house completely wrecked. Worse, no one at the police station had seen or heard from Adam since early that morning. Axel and Blaze rush to investigate, and find a photo of Adam, in chains, laying at the feet of a man they know only too well. Mr. X and the Syndicate have returned, and, thirsty for revenge, have kidnapped Adam in the hopes of luring Axel and Blaze into a trap. Adam's disappearance marked the beginning of a new nightmare. Criminal elements swarmed out to reclaim the streets. Gangs roamed the parks, and bomb-wielding bikers made the roads deadly to travel at night. Beatings and lootings took place regularly and in broad daylight. Chaos reigned in the city, far worse than ever before. Axel and Blaze tried to contact their old friends at the force, the ones who once provided backup with heavy artillery. But everyone they knew had either been fired or transferred elsewhere. This time, the Syndicate was in complete control, and the two ex-cops were on their own. Assisted by Adam's brother Skate, and Axel's friend Max, Axel and Blaze set out to rescue their friend and destroy Mr. X once and for all. Standing in their way is the nastiest collection of punks and brawlers ever assembled. Add to that a force of professional fighters specially groomed to take them out of the picture!
Details
| | |
| --- | --- |
| Publisher | Sega |
| Developer | Sega, Shout! Designworks, Ancient, MNM Software, H.I.C. |
| Genre | Hack and slash/Beat 'em up, Arcade |
| Game Mode | single-player, multiplayer, co-op |
| Theme | Action |
| Platform | iOS, PC (Windows), Sega Game Gear, Sega Mega Drive/Genesis, Sega Master System, PlayStation 3, Arcade, Wii, Linux |
Streets of Rage 2 does not have any videos to show at this time.
Streets of Rage 2 PC CD Key Prices Compared
Similar Games