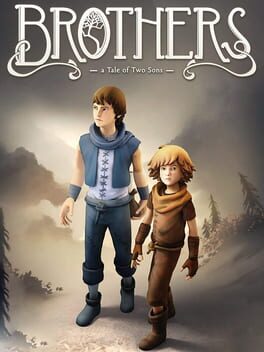 Brothers: A Tale of Two Sons PC CD Keys
What are Brothers: A Tale of Two Sons PC CD Keys?
Brothers: A Tale of Two Sons PC CD keys, also known as game codes and game keys, are digital downloads that can be redeemed on platforms and services where the game was officially released. For example, Brothers: A Tale of Two Sons codes can be redeemed and played on iOS, PC (Windows), Nintendo Switch, Android, PlayStation 3, PlayStation 4, Xbox One, Xbox 360, Windows Phone.
How can I find the best Brothers: A Tale of Two Sons PC CD Key prices?
Prices vary by region, platform and the service and/or game launcher the CD key can be redeemed on. BestCDKeys.com takes all of these factors into consideration and makes it easy to compare prices from official retailers and popular third-party marketplaces by finding you the best daily Brothers: A Tale of Two Sons PC sales and discount codes available worldwide.
Brothers: A Tale of Two Sons PC Digital Downloads
Buy Brothers: A Tale of Two Sons game codes and redeem them to own a digitial copy of Brothers: A Tale of Two Sons PC that you can download and play. Select your preferred country, platform and service to find the best deal.
Brothers: A Tale of Two Sons PC
Brothers is presented from a third-person view overlooking the two brothers. The brothers are moved individually by two thumbsticks on the controller. The controller triggers also cause the respective brother to interact with the game world, such as talking to a non-player character or grabbing onto a ledge or object. The older brother is the stronger of the two and can pull levers or boost his younger brother to higher spaces, while the younger one can pass between narrow bars. The player progresses by manipulating the two brothers at the same time to complete various puzzles, often requiring the player to manipulate both brothers to perform differing functions (such as one distracting a hostile non-player character while the other makes their way around). Should either brother fall from a great height or get injured, the game restarts at a recent checkpoint. All of the in-game dialogue is spoken in a fictional language, thus the story is conveyed through actions, gestures and expressions.
Storyline
A man, clinging to life. His two sons, desperate to cure their ailing father, are left with but one option. They must set out upon a journey to find and bring back the "Water of Life" as they come to rely on one another to survive. One must be strong where the other is weak, brave where the other is fearful, they must be... Brothers.
Details
| | |
| --- | --- |
| Publisher | 505 Games, Spike ChunSoft |
| Developer | Starbreeze Studios |
| Genre | Puzzle, Adventure, Indie |
| Game Mode | single-player |
| Theme | Action, Fantasy, Drama |
| Platform | iOS, PC (Windows), Nintendo Switch, Android, PlayStation 3, PlayStation 4, Xbox One, Xbox 360, Windows Phone |