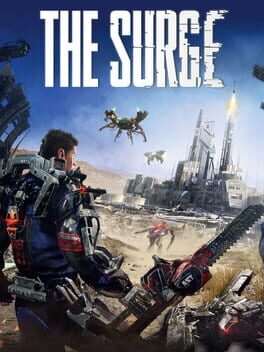 The Surge PS4 CD Keys
What are The Surge PS4 CD Keys?
The Surge PS4 CD keys, also known as game codes and game keys, are digital downloads that can be redeemed on platforms and services where the game was officially released. For example, The Surge codes can be redeemed and played on PC (Windows), PlayStation 4, Xbox One.
How can I find the best The Surge PS4 CD Key prices?
Prices vary by region, platform and the service and/or game launcher the CD key can be redeemed on. BestCDKeys.com takes all of these factors into consideration and makes it easy to compare prices from official retailers and popular third-party marketplaces by finding you the best daily The Surge PS4 sales and discount codes available worldwide.
The Surge PS4 Digital Downloads
Buy The Surge game codes and redeem them to own a digitial copy of The Surge PS4 that you can download and play. Select your preferred country, platform and service to find the best deal.
The Surge PS4
The Surge is a sci-fi spin on Dark Souls, from the Lords of the Fallen team. A catastrophic event has knocked you out during the first day on the job... you wake up equipped with a heavy-grade exoskeleton, in a destroyed section of the complex. Robots gone haywire, insane augmented co-workers and rogue AI - everything wants you dead. Defy deadly enemies and huge bosses in tight, visceral melee combat. Target and slice specific limbs off your foes, with a next-gen loot system where you loot what you dismember. Equip, upgrade and craft new weapons and armors sliced from enemies, and make yourself stronger through a fresh take on leveling-up.
Storyline
Set in a heavily dystopian future as Earth nears the end of its life, those who remain in the overpopulated cities must work to survive as social programs have become saturated by an aging population and increasing environmental diseases. The world of The Surge offers a very grim vision of the future, where the evolution of our technology, our society and our relation with the environment led to a decadent state of the Human civilization. Fitted with an advanced CREO exo-suit, balancing your core power against your implants and exo-suit upgrades will allow you to specialize in a huge variety of combat styles, thanks to the almost limitless combinations of addons and dozens of make-shift weapons salvaged from the industrial complex. Finely tune your gear to match your playstyle, and to best suit the challenge ahead. The Metroidvanian levels open up as your core power increases, allowing you to over-charge doors previously too strong for your suit to damage and opening new pathways for you to explore. The CREO facility is vast, and if you want to find and craft the best equipment and weapons, you will need to search every area for secrets and hidden items.
Details
| | |
| --- | --- |
| Publisher | Focus Home Interactive |
| Developer | Deck13 Interactive |
| Genre | Adventure, Role-playing (RPG) |
| Game Mode | single-player |
| Theme | Action, Science fiction |
| Platform | PC (Windows), PlayStation 4, Xbox One |
The Surge PS4 CD Key Prices Compared
Similar Games