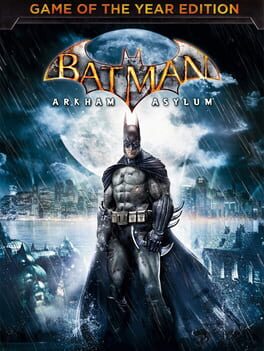 Batman: Arkham Asylum - Game of the Year Edition Mac CD Keys
What are Batman: Arkham Asylum - Game of the Year Edition Mac CD Keys?
Batman: Arkham Asylum - Game of the Year Edition Mac CD keys are digital codes, also known as a game codes or game keys, that you activate and redeem to download a digital version of Batman: Arkham Asylum - Game of the Year Edition. You can buy and redeem Batman: Arkham Asylum - Game of the Year Edition CD keys to play on PC (Windows), Mac, PlayStation 3, Xbox 360.
How can I find the best Batman: Arkham Asylum - Game of the Year Edition Mac CD Key prices?
It's easy - we collect and compare price information daily for Batman: Arkham Asylum - Game of the Year Edition Mac to help find you the best deals available from official retailers and popular third-party marketplaces, including sales and discount codes available worldwide.
How do I redeem a Batman: Arkham Asylum - Game of the Year Edition Mac CD Key?
Select a country, platform and service to find the best deal in your preferred region. Buy Batman: Arkham Asylum - Game of the Year Edition from your vendor of choice and redeem it to own a digitial copy of Batman: Arkham Asylum - Game of the Year Edition Mac that you can download and play.
Batman: Arkham Asylum - Game of the Year Edition Mac
Critically acclaimed Batman: Arkham Asylum returns with a remastered Game of the Year Edition, featuring 4 extra Challenge Maps. The additional Challenge Maps are Crime Alley; Scarecrow Nightmare; Totally Insane and Nocturnal Hunter (both from the Insane Night Map Pack). - Utilize the unique FreeFlow™ combat system to chain together unlimited combos seamlessly and battle with huge groups of The Joker's henchmen in brutal melee brawls - Investigate as Batman, the WORLD'S GREATEST DETECTIVE, by solving intricate puzzles with the help of cutting edge forensic tools including x-ray scanning, fingerprint scans, 'Amido Black' spray and a pheromone tracker - Face off against Gotham's greatest villains including The Joker, HARLEY QUINN, POISON IVY and KILLER CROC - Become the Invisible Predator™ with Batman's fear takedowns and unique vantage point system to move without being seen and hunt enemies - Choose multiple takedown methods, including swooping from the sky and smashing through walls. - Explore every inch of Arkham Asylum and roam freely on the infamous island, presented for the first time ever in its gritty and realistic entirety - Experience what it's like to be BATMAN using BATARANGS, explosive gel aerosol, The Batclaw, sonar resonator and the line launcher - Unlock more secrets by completing hidden challenges in the world and develop and customize equipment by earning experience points - Enjoy complete superhero freedom in the environment with the use of Batman's grapnel gun to get to any place you can see, jump from any height and glide in any direction
Storyline
After the Joker assaults Gotham City Hall, he is caught by Batman and taken to Arkham Asylum, which temporarily houses many members of the Joker's gang, who were transferred after a fire at Blackgate Prison. Believing the Joker allowed himself to be captured, Batman accompanies him into the asylum. The Joker's plan is revealed as Harley Quinn takes control of the security and the Joker escapes into the facility, aided by a corrupt guard who kidnaps Commissioner Gordon. The Joker threatens to detonate bombs hidden around Gotham City if anyone tries to enter Arkham, forcing Batman to work alone. Tracking Quinn to the medical facility to rescue Gordon, Batman is exposed to the Scarecrow's fear toxin and hallucinates, seeing Gordon's death and the corpses of his parents talking to him. After fighting off Scarecrow, Batman finds and subdues Quinn before rescuing Gordon. The Joker then directs Batman to the captured Bane, who has been experimented on by asylum doctor Penelope Young. The Joker frees Bane and Batman is forced to fight him, during which Quinn escapes. Afterward, he goes to a secret Batcave installation he had hidden on the island, where Batman restocks his gadgets. There, Batman learns that the Joker returned to the asylum to gain access to Young, who has been developing Titan—a more powerful version of the Venom drug that gives Bane his strength—intending to use it to help patients survive more strenuous therapies. Young learned that the Joker had been funding her research to create an army of superhuman henchmen; her refusal to hand over the formula precipitated Joker's return to the Asylum. While searching for Young, Batman is again attacked by Scarecrow and the fear toxin, and hallucinates the night of his parents' deaths. After he recovers, Batman destroys Young's Titan formula and rescues Young from Victor Zsasz. An explosion kills Young and the Joker obtains the completed batches of Titan. At the Penitentiary, Quinn releases Poison Ivy from her cell before being imprisoned by Batman. Quinn accidentally reveals that Joker has a Titan production facility in the Arkham botanical gardens. Batman travels there and learns that Titan is created by genetically modified plants. He enlists Ivy's help to create an antidote and learns that it can only be made from spores found exclusively in Killer Croc's lair in a sewer. En route to Croc, Batman is again attacked by Scarecrow and overcomes several doses of fear toxin. Meanwhile, Joker injects Ivy with Titan, enhancing her powers. Ivy begins ravaging Arkham Island with giant mutant plants. Pursued by Batman into Croc's lair, Scarecrow is attacked by Croc and dragged underwater. Batman recovers the necessary spores and subdues Croc before returning to the Batcave, but can only synthesize one dose of the antidote before Ivy's plants breach the cave and destroy his equipment. Batman returns to the botanical gardens and defeats Ivy, halting the rampaging plants. The Joker announces that the preparations for his party are finally complete and Batman travels to the asylum's visitor center where the Joker's applauding henchmen welcome him. The Joker reveals he has recaptured Gordon and tries to shoot him with a Titan-filled dart; Batman leaps to Gordon's defense and is shot instead. Batman attempts to resist the change, and an upset Joker takes an overdose of Titan, mutating into a massive monster. In a makeshift arena on the building's roof, the Joker challenges Batman to a fight as Titan-induced monsters in front of news helicopters. Batman refuses to transform, uses the antidote on himself, and defeats the Titan-affected Joker and his henchmen, knocking his nemesis unconscious with an explosive gel-enhanced punch. In the aftermath, those affected by Titan begin to revert to normal, including the Joker—who is restrained and taken into custody as police officers retake the asylum. Batman overhears a call about a crime led by Two-Face in progress and flies back to Gotham City in the Batwing. In a post-credits scene, a crate of Titan formula is shown floating in the ocean near the asylum when a hand surfaces and grabs it.
Details
| | |
| --- | --- |
| Publisher | WB Games, Eidos Interactive, DC Entertainment |
| Developer | Rocksteady Studios |
| Genre | Adventure, Hack and slash/Beat 'em up, Fighting |
| Game Mode | single-player |
| Theme | Action, Horror, Stealth |
| Platform | PC (Windows), Mac, PlayStation 3, Xbox 360 |
Batman: Arkham Asylum - Game of the Year Edition Mac CD Key Prices Compared
Similar Games